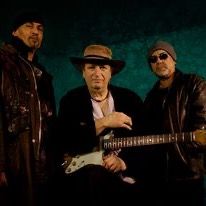 Rockin' Blues and Beyond
A no nonsense power trio playing original material as well as supercharged and well chosen covers
Formed in 2008, the Maz Mitrenko Band has played hundreds of gigs up and down the UK as well as in the USA releasing four CDs along the way. The band is currently gearing up for the post covid music scene whatever that may turn out to be
I slowly swam up through a fog of deep sleep stupor and finally managed to open my eyes. 
I sat up and looked around my familiar room. 
Staggering slightly, I managed to make my way over to the window and raised the blind. 
Instead of the London mews I was expecting, I saw a quaint small village scene that could have been anywhere. What WAS this? 
I splashed water on my face at the sink, put on my jacket and made for the door but before I got to it, it swung open with a click and a hum. 
I stepped carefully outside just in time to see a jovial man on a strange bicycle ride by "Lovely day!" he called out, smiling. 
I looked the other way down the street to see a woman sporting a multi coloured cape and walking a dog. "Good morning" she said smiling and made to walk by. 
"Wait!" I said "Where am I? What is this place?" 
She turned frowning and said "My man, questions are a burden to others; answers a prison for oneself" 
Just then, I noticed the curious badge that must have been on my lapel the whole time - it showed a strange bicycle like the man had been riding with a number 6. 
"I think you need to go up to the green dome" said the woman, pointing up the hill. 
"Ask for number two"